Is your horse safe to handle and ride?
How to Fix Horses that Buck, Rear, Bite, Kick or Spook… and a Whole Lot More!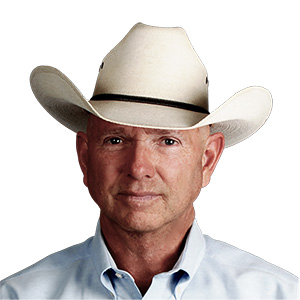 Reining and cutting horse trainer,
Larry Trocha
Hi – I'm Larry Trocha… The horse trainer who created this online training course.
During my career, I've had the pleasure of training winning horses in reining, cutting, reined cow horse, ranch horse and barrel racing competition.
More than a few of those horses came to me with really bad behavior problems. Some of them down-right dangerous.
Out of necessity, I developed training methods which are so effective… they can be used to correct just about any bad behavior issues… on just about any horse.
We shot video footage of me applying the training methods to horses with actual behavior problems. The kind of behavior problems that plague many horse owners.
I then assembled the information into an online horse training course which includes VIDEO, AUDIO and WRITTEN instruction.
EXCLUSIVE – TRAINING – METHODS
The training methods I reveal in this course are exclusive. They are very unique and SPECIFIC for fixing bad or dangerous behavior in horses.
You won't see this type of training at any clinic. Not on any trainer's DVDs or not at any private lesson either.
They are my own special methods which just about anybody can apply… but VERY FEW people have ever seen.
The course is titled:
​Groom, Saddle, Ride & Fix Bad Behavior​
As the title implies, this course covers a lot of different behavior and training categories.
Each category is extremely important. I've listed them below.
Click on each "tab".
Category #1
CATEGORY #2
CATEGORY #3
CATEGORY #4
CATEGORY #5
Category #1
1. How to prevent your horse developing behavior problems before they ever start.
In this training course, you'll learn how to prevent your horse from developing bad or dangerous habits before they even start. Few horse owners are aware of the subtle, little things that over time can escalate into big problems.
I don't know how many times I've heard a rider say, "My horse just all of a sudden developed this problem". No horse ever just "all of a sudden" develops bad behavior. It almost always comes on slowly, little by little.
Most owners miss the warning signs until it's too late. This course shows you what to look for and how to prevent the bad behavior before it starts.
CATEGORY #2
2. The most important relationship between you and your horse.
This includes what your horse thinks about you (and why)… and what you think or feel about your horse.
This subject is a touchy one because many people (actually lots of people) believe things about horses and horse nature which simply aren't true.
Unfortunately, the horse industry is full of "bad advice", "politically correct" B.S. and "old wives tales" which are very misleading.
However, in this course, you'll learn the TRUTH about how horses are emotionally wired… what their natural instincts are… and why they do what they do.
You're also going to learn how to establish a GOOD RELATIONSHIP with your horse. A relationship where the horse understands you and you understand the horse.
If you've become FEARFUL of your horse or lost your confidence because you've been injured by your horse… Don't worry… I'll show you how to get your confidence back. And get it back FAST!
CATEGORY #3
​3. Ground work training… except this isn't the typical ground work you've ever seen before.
Yes, I know what you're thinking… "Larry, I've seen plenty of ground work techniques before and tried them on my horse. So this ground work stuff is nothing new.
My response to that is… You haven't seen MY KIND OF GROUND WORK.
It's nothing like you've seen before. And it's way more effective for correcting problem behavior than anything else.
With it, you can literally solve many riding problems from the ground… without the risk of getting hurt like you can when trying to fix a problem from the saddle.
In this training course, you'll see exactly how to do it.
CATEGORY #4
​4. Dangerous behavior… bucking, rearing, biting, kicking, excessively dangerous spooking.
In this training course, I'll show you ways to overcome some of the worst (and most dangerous) behavior problems a horse can have.
IMPORTANT NOTE: The training I show you here is "NO B.S." I don't show you how to TIP-TOE around the problem, hoping you can somehow sneak by.
No, I demonstrate how to address the problem STRAIGHT-ON… IN AS SAFE A WAY AS POSSIBLE… in a way the horse truly understands… and changes his bad behavior to good behavior because of it.
In short, I show the MOST EFFECTIVE training you've ever seen for correcting bad behavior problems. I absolutely guarantee it.
CATEGORY #5
​​5. Behavior problems that plague almost all horse owners at one time or another.​
This is the category of behavior problems which aren't overly dangerous but are definitely a pain in the neck.
If you own horses for any length of time… you're eventually going to need this.
I'll show you ways to overcome some of the most aggravating (and frustrating) behavior problems a horse can have.
Below are just a few of the solutions you'll find in this training course.
How to effectively motivate your horse to be good instead of bad.
Wreck prevention. (How to stop the wreck from happening before it actually starts)
Emergency ground work. (Use this when all else fails to keep you safe on the ground)
How to change your horse's mind when he wants to be bad. (Takes less than 5 minutes)
Spooking control. (the 99% spooking cure). Works 99% of the time on 99% of horses.
The most effective ways to deal with horses that buck, rear, run off, barn sour, etc, etc.
Drastic measures. Use this training method when all else fails to gain control. It works.
This training course corrects all the problems below, plus much more.
Horses that pull-back when tied. (You'll see how to fix it fast)
Horses that won't load in the trailer… or they un-load too fast (hurt themselves and you)
Won't stand still to be mounted. (You'll see how to correct this problem within 5 minutes)
How to correct horses who are bad on the trail. (They jig, kick other horses, anxious, etc)
How to correct behavior problems that only happen at a show or in competition.
How to install an "Emergency Brake" on your horse. (Very effective and easy to do)
Disrespectful, pushy, crowding or stepping on you. Pinning his ears when you approach.
Balking, refusing to move forward, resentful backing up or threatening to rear.
Rearing defiantly to get his own way. Rearing due to fear or pain.
Running off with his rider. Out of control refusing to listen to the rider.
Gate or barn sour. Runs to the gate or barn and refuses to leave.
Buddy sour. Refuses to leave the company of other horses.
New & Specific Training Techniques
My favorite "Fix All" training technique… Works great on horses who spook, won't cross water, load in the trailer, are buddy sour, gate sour & more.
This is the training technique I use to solve many, many problems. It's easy to do and easy for your horse to understand.
It's not uncommon to get great results within just one or two rides. Yes, it works that well.
You'll see the "BEFORE" and "AFTER" results in the video… with just one ride.
How to catch… halter… and train to ride… a wild, untouched horse… who is scared to death of people.
What you'll learn here is really special. One of my clients brought me an untouched, 7-year-old mare to start under saddle.
They delivered her loose in a stock trailer because she is so wild and afraid of people, there is no way to even get close to her.
If you've ever tried to start a horse older than 3, you know it's way more difficult. They are set in their ways. Now add on to that, a horse who's never been around people. Let me tell you… your horse training tool box better be full of good, safe ways to get the job done.
In this series of videos, step by step, you'll see the process I used to teach her to be caught, haltered, lead and ridden. She is one of the most dangerous horses I've ever started. If I ever got hung-up in a stirrup, it would all be over.
How to deal with a horse who bucks so hard, there's no way to ride him.
One of my clients brought me a big, good-looking buckskin stallion to train. He was 4 years old and had recently been started by another trainer. The horse had the looks and movement of a big-time ranch pleasure horse, worth a lot of money.
However, he came with a warning…
The horse's owner said the trainer had the horse for two months and when they went to watch him being ridden, the trainer was hesitant to get on. (I've known this trainer for years and he's fearless so I knew something wasn't right).
The owner also said the horse had only been ridden 5 or 6 times.
Long story short, after a couple days of groundwork, I was riding the horse. All went well for about 2 months. His owners were ecstatic about his progress.
Then, one day, he balked and refused to go forward. I pressed the issue to make him go.
He let out a stud "grunt" to tell me to kiss-off.
I insisted he go… he warned me again with a louder grunt… and then started to hump up. I wasn't too worried about it because I was pretty sure I could ride him.
I reached down one rein, took his head away and again, insisted he move his feet. He instantly EXPLODED into bucking, ripped his head away and proceeded to buck me off harder than I'd been bucked off in a long time.
After that, he thought about bucking me off EVERY TIME I GOT ON HIM.
I knew I couldn't ride him… and he knew it too.
After he bucked me off, he had it in his mind, that all he needed to do to get out of work, was to buck me off.
What I did to solve the problem is something EVERY horse owner should know. You'll see exactly how I did it.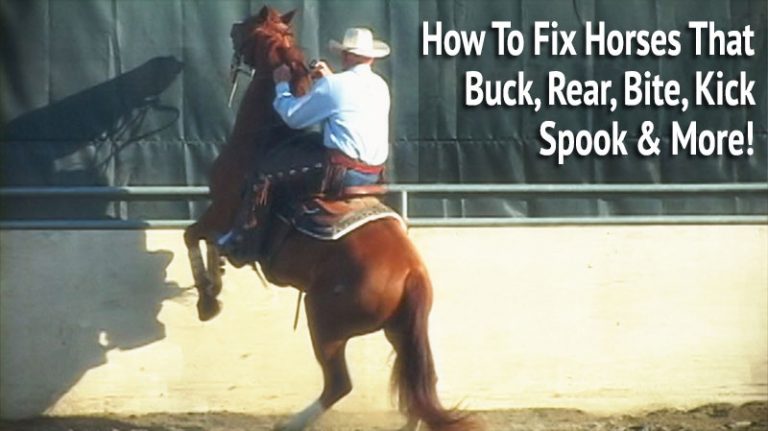 Groom, Saddle, Ride & Fix Bad Behavior
15-hours of online video, audio & written instruction.
Plus added bonuses. See them below.
1-year membership: $197
There's always a reason a horse develops bad behavior…
This training course addresses them all.
In this course, I cover all the probable causes and how to recognize them in your horse. This information is absolutely crucial as it's the key to permanently correcting the problem.
In this course, I cover all the probable causes and how to recognize them in your horse. This information is absolutely crucial as it's the key to permanently correcting the problem.
You'll see horses attempt to buck me off. You'll see them run off, balk, rear up and try to rub me off on the fence.
You'll see training techniques that work great and are EXTREMELY EFFECTIVE to correct all these problems.
Plus… and this is important… you'll see how to fix many of these problems from the ground… where you are far less likely to get hurt.
These training techniques also work great on horses that refuse to cross water, are gate sour, barn sour, buddy sour and many more common problems.
Add this knowledge to your horsemanship toolbox and there won't be many behavior problems you can't fix.
Eliminates the "root cause" of bad behavior.
​Before you can effectively fix a horse's behavior problems, you have to address what is causing the bad behavior in the first place.
It's always a good idea to eliminate any chance of pain or ill fitting tack as the cause of behavior problems. Most owners will have a vet check the horse for any signs of pain. Many will also try different saddles, bits and tack.
In the vast majority of cases, pain or saddle fit is NOT what is causing the problem behavior. If it was, the vet would find it and the change of tack would correct it. And as many experienced horse owners know… it seldom does.
Discover how good horsemanship
plus effective training methods, can greatly improve your horse and make him more enjoyable.
​In this video series, you'll learn a ton of stuff about horse training and horsemanship.
Things like… how to teach your horse to willingly pick up its feet… how to teach your horse to open his mouth for the bit… spur placement on the rider's boot and rowel selection to match the horse.
You'll see how an experienced horseman executes these basic yet extremely important procedures.
Do you have a fear of horses or fear when riding?
If so, I'm guessing you've been seriously injured or had a bad scare by a horse. Maybe by the horse you currently own.
If that's the case, you'll appreciate the section about overcoming fear of horses and fear when riding in a scary situation.
Scary situations like riding a spooky horse out on the trail. Or scary situations like riding a reined cow horse running full-out to catch a cow.
This course offers solid solutions to help you establish control and gain confidence.
Unique and exclusive videos are included in this course. One is titled, DRASTIC MEASURES.
This video demonstrates what to do if your horse refuses to listen… won't stop… is out of control… or totally loses his mind in a state of FRENZY.
In "real time", you'll see the horse I'm riding transform from REFUSING to listen, refusing to respond and totally refusing to STOP.
After I apply the "Drastic Measures" technique, he goes from not stopping… to SLIDING TO A STOP… in less than 15 minutes. No, I'm not exaggerating. This training technique really works that well.
This information is totally unheard of and you'll never see it anywhere else.
Another is titled…
A 99% SPOOKING CURE.
And to be completely honest… it's exactly that. It's a solution 99% effective on 99% of the horses who have a spooking problem.
And no, it has nothing to do with desensitizing a horse… or waving a plastic bag on a stick… or shaking a sack full of cans… or throwing a tarp on him.
You'll be surprised by how simple and straight-forward this solution is. Plus, it has proven to work time and time again on all kinds of horses..
This online training course has over 15-HOURS of instruction by champion horse trainer, Larry Trocha.
In this course, there are over 14-hours of instruction. Successful horsemanship principles plus every conceivable behavior problem a horse can have is addressed here.
I want to make it clear… the instruction you get here is NOT mere theory. Nor are they vague, politically correct, touchy-feely suggestions which tip-toe around the problem.
No, these are proven, cutting-edge training methods I've perfected over years as a professional horseman who has taken problem horses and turned them into productive saddle horses… as well as winning championships with them in the show arena.
I'll show you EXACTLY what to do and how to do it in the SAFEST, most EFFECTIVE way possible. You'll learn how to correct horses which have some of the worst behavior you'll ever encounter.
If you went to a professional trainer and tried to get this kind of education on your own, it would cost you THOUSANDS of dollars or more. And that's if you could even find a trainer who knows the training techniques and is willing to share them. The chance of that happening is pretty slim.
Take advantage of this special offer while it's still available… including the free bonuses!
Watch the videos as many times as you'd like for an entire year (365-days).
You can access them on any COMPUTER, TABLET or SMART PHONE with an internet connection.
If you went to a professional trainer and tried to get this kind of education on your own, it would cost a minimum of $3500 dollars.
Probably a lot more, depending on where you live.
And that's if you could even find a trainer who knows this information, let alone willing to share it. Unfortunately, the chances of that are pretty slim.
Luckily, this unique training course is being offered at a ridiculously low price of only $197… that's less than .54 cents a day!
Get started by becoming a member today!
Start by clicking the "Join Now" button below. Then, fill out the secure "Check Out" page.
A few minutes after you submit your order, you'll receive an email containing your username and password. Login and start watching. Okay, do it now and I'll see you in the "Members Area".
Groom, Saddle, Ride & Fix Bad Behavior
15-hours of video, audio & written instruction.
Plus special bonuses. See them below.
1-year membership: $197
When you become a member today, ​you're going to get some special bonuses.
Bonus #1
Q & A session which covers every behavior problem under the sun.
When I initially introduced this course, it was an immediate success.
Hundreds of people joined and became members.
First thing I did was ask the members to email me their worst behavior problems and I'd offer a solution during an in-depth question and answer session.
That idea was a big hit…
And the resulting Q & A session turned out to be some of the best "HOW TO" information you'll ever find to fix bad behavior problems. (A $50 value)
Bonus #2
How to Fix Horses Who are Bad to Bridle, Clip, Medicate or Head Shy.
As a bonus, you'll get full access to my online training course titled:
"How To Fix Horses Who Are Bad To Bridle, Clip, Medicate Or Head Shy".
If your horse won't let you touch his ears, open his mouth for the bit, clip his bridle path or tolerate being wormed or vaccinated, this training course is for you.
If so, you know the extreme difficulty it causes.
In this training course, you'll see how to correct those problems and fix them fast. (A $37 value)
Bonus #3
Have Larry evaluate your horse's problems & offer the best solution.
For a limited time… Larry is offering to evaluate your horse's behavior problems plus offer advice on how to correct it.
Upload a video of your horse's problem to youtube.com and email Larry the link to the page address of the video. (the URL)
He will analyze the video and contact you to offer the best solutions for correcting the problem.
This is your chance to get advice from a top professional trainer.
A $100 value but it's yours FREE when you join and become a member!
100% Satisfaction Guarantee!
I know what it's like to ride a horse with serious behavior issues. It's no fun… and it can be down-right dangerous.
If you're in this type of situation with your horse, I know how you feel… desperate to find a solution that really works.
I want you to know, in this training course, I've got you covered.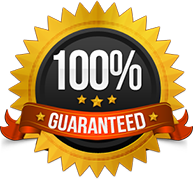 You can't go wrong here. This course can take you and your horse to a new level… fast!
I guarantee you'll find a solution to your horse's bad behavior problems in this online training course. If not, simply send me an email or phone call and I'll personally guide you to it.
And I guarantee it'll work just like I say or I'll give your money back.
Frequently Asked Questions
​Question #1
QUESTION #2
QUSTION #3
QUESTION #4
QUESTION #5
QUESTION #6
​Question #1
Is this training course available on DVD?
No, it isn't.
This course consists of video, audio and written instruction. Formats which won't all work on a dvd.
Even if it would, it would take 7 or 8 dvds to hold all the information in the course. Which means the retail price would need to be a lot higher.
QUESTION #2
I don't know much about the internet. Is this online training course easy to access and use?
Yes.
When you purchase a membership to this course, you are emailed a username and password. Simply login (the link is at the top of every page) and click on the course membership you purchased. You will automatically be taken to the course.
The links to the content will be in a menu on the left side of the page. If you are using a tablet or smart phone, the menu may be at the bottom of the page instead of the left.
QUSTION #3
​​I have a slow internet connection. Will I be able to watch the videos?
Yes, if you access the videos via your smart phone.
The videos are optimized to watch on any devise (computer, tablet or smart phone). If your internet connection is super slow,  the videos won't play well on a computer.
However, they will load and play fine on your smart phone.
QUESTION #4
​​If I have problems accessing the course or watching the videos, is help available?
Yes, absolutely!
Go the the "Contact Us" page and you will find links to information that will help… or send us an email for help… or call us on the phone.
QUESTION #5
My horse has many behavior problems and they're getting worse with each ride. How can I be sure this training course will help me?
There really is not a behavior problem this training course doesn't address. Oftentimes with multiple solutions so you can pick and choose.
If you can't find what you need, simply email or call me for help.
You also have the option of sending me a video of your horse's problem. I'll watch it and offer solutions.
QUESTION #6
​My horse is barn sour, balks and won't go forward. And he threatens to rear if I ask him to go. I'm getting scared to ride him. Using your methods, how long will it take to get him to quit it?
A lot depends on how well you apply the training methods and how trainable your horse is. ​I​​​​f the correction is done right, 2 to 4 training sessions will usually do the job.
​On some horses the correction can be done from the ground where you're a lot safer.
Now, I'm talking about a "normal" horse. If your horse is a "schizophrenic phyco", we're talking about something totally different.
Groom, Saddle, Ride & Fix Bad Behavior
15-hours of video, audio & written instruction.
Plus all the bonuses.
​1-year membership: $197